The SVP Medium Accuracy Vacuum Gauge is a completely self contained unit with all circuitry enclosed in a PVC meter housing. It is an excellent alternative to the digital vacuum gauges commonly offered to the neon industry. This instrument provides better accuracy, repeatability and reliability than its digital counterpart. The accuracy capabilities provide good repeatable readings in the low micron range (below 5 microns) making it a good choice for general neon fabrication as well as determining system performance. This gauge is notably the choice of many neon technicians.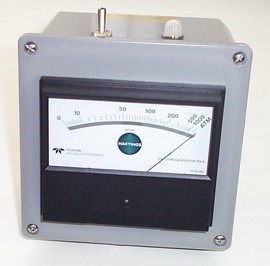 The SVP Medium Accuracy Vacuum Gauge is based on the Hastings 0-1,000 mtorr (micron) meter assembly. SVP has chosen Hastings instruments for their quality and dependability when used in close proximity to high voltage.

Hastings instruments are legendary for their reliability and accuracy. They are the standard by which other vacuum gauge manufacturers compare their products to, many of who use Hastings components for their own gauges – a testament to the quality of Hastings products.

SUMMARY:
A high vacuum gauge is used to measure the ultimate vacuum obtained within the manifold following the processing procedure and prior to backfilling the tube with inert gas. This instrument ensures that the tube was adequately evacuated. A high vacuum gauge is also valuable in determining the integrity of the vacuum system, as well as troubleshooting problems if they arise. Once a technician has become familiar with this instrument and how it reacts to various conditions and situations it can also be invaluable in avoiding problems.

A vacuum gauge capable of measuring down to at least 1 micron should be used and this level of vacuum should be strived for. A vacuum of 1 micron is where molecular flow begins to take place and where the high vacuum region begins. Analog vacuum gauges are best suited for our purposes because of the high voltage field produced by the bombarder.

When considering a vacuum gauge, one that will measure pressures between 1 micron and 1,000 microns is suitable for general neon tube production. One that can measure 0.1 micron should be used for critical neon work and Cold Cathode Lamp production.

CAUTION!
Whatever vacuum gauge is used, whether it is line voltage operated or battery operated, a stopcock between the vacuum gauge tube (sensor) and main manifold body must be used to isolate the gauge tube from the main manifold. This protects the gauge and gauge tube from possible damage due to bombarder high voltage, spark tester frequencies and voltage, as well as the influx of contaminants, which are a normal result of the bombarding process and venting the manifold to atmosphere.