SVP stands ready with a fully equipped in-house scientific glassblowing shop to meet your needs. In addition to manufacturing all of our Pyrex manifolds, diffusion pumps and related glassware on site, we also provide scientific glassware fabrication, cleaning and repair services for neon shops as well as local businesses and colleges. In most cases the repair cost for neon vacuum system components is much less than the cost of a new component.

SVP offers professional repair and cleaning services for all brands of Pyrex vacuum system components. From general cleaning and maintenance to extensive repairs, SVP can make your vacuum system look and perform like new again. Whether your system is from Daco, EGL, Eurocom, Transco, Voltarc, or a one-off rendition from an independent shop, SVP Neon Equipment can clean and repair it to like-new condition.

Our in-house glass shop allows us to provide same day repair services in most cases, a service other neon equipment manufacturers simply cannot offer as their glass work is contracted out. Provided prior arrangements are made so we are expecting an item for repair (usually 24 hours notice is sufficient) and the item is received by 10:30 AM our time, we can clean, repair, oven anneal and vacuum check the component and return ship it the same day for next day delivery if necessary.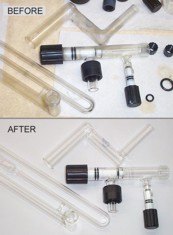 When a glassware repair is necessary silicone or fluorinated grease must be completely removed by chemical means if a long-term successful repair is to be expected. For example, the often used method of attempting to burn off silicone grease in an annealing oven prior to a repair only worsens the situation as many times the oven temperature is too high and will literally burn the grease into the structure of the glass, thereby making any repair questionable. If not removed by chemical means prior to repair and annealing, the silicone film will be sealed into the glass where the repair is made.